2010 - 10
Psychetronica Tokyo - Harvest of Halloween Eve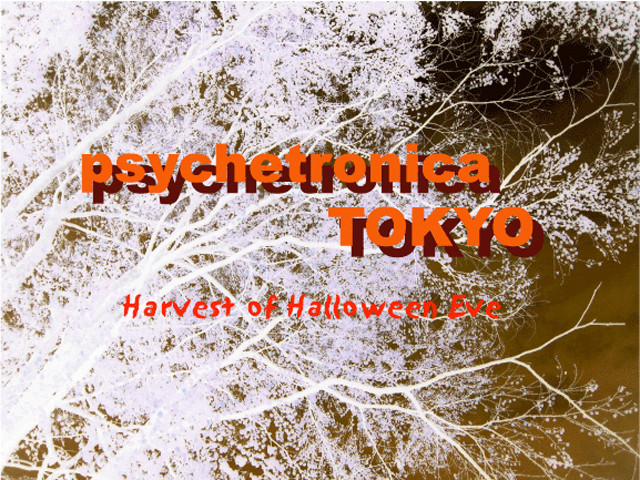 Psychetronica Tokyo - Harvest of Halloween Eve@BAR Cheeky
2010-10-30 (sat) 22:00~29:00
Presented by color-music
BAR Cheeky
東京都武蔵野市吉祥寺本町1-30-10
Tel. 0422-22-8005
Fee
Free
Timetable
22:00 taisouegao
23:30 DJ URI
00:30 STAYGOLD
01:00 Coyubi
02:00 You-me
03:00 GOJA
04:00 B To B
DROP OF SOUND
ButterflyEffect -Black Halloween-
衝撃の初来日から1年・・・あの男がButterflyEffectに還って来る!!UKの正統派ビックルーム・サウンドを継承するレーベルとしてUnderworld、Fatboy Slim、Faithlessから絶賛され、今年はセカンド・サマー・オブ・ラブのファッション・アイコン、Gio-Goiのアニヴァーサリーを記念した「21 Years of Gio-Goi」のリリース等、シーン屈指のネームヴァリューを誇るToolroom Recordsの最重要人物、「FUNKAGENDA」だ。 07年、シーンを激震させたビックボム「What The Fuck」、そしてBeatport Music Awards にて2009年、2010年にそれぞれBest Tech House Trackを受賞したMark Knight &Funkagenda名義での「Man With The Red Face」、「Good Times」など、キラートラックを量産し続けるシーンNo.1のトラックメーカーである。そして、二度目の来日を果たす今回のButterflyEffectはハロウィンバージョン。その名も『BLACK HALLOWEEN』。黒という色が持つ、ロック・妖艶・シック・ラグジュアリーなど様々な要素で織り成す、スパイスが効いたCoolな空間を演出。この日はもう、マトモではいられない...。さあ、一夜限りのワンダーランドに出掛けよう!!
ButterflyEffect -Black Halloween-@WAREHOUSE702
2010-10-29 (fri) 22:00~
Presented by ButterflyEffect
WAREHOUSE702
http://www.warehouse702.com/top.html
東京都港区麻布十番1-4-5 深尾ビルB1
Tel. 03-3586-1231
Fee
W/COSTUME / 2,500
W/F / 3,000
Door / 3,500
Dj
FUNKAGENDA (Toolroom / UK)
HATORI (ButterflyEffect)
DJ 4th
DJ ist (color-music / FULLFAITH / SO;U)
MILLA (MIRRORBALL)
Vj
kmy (sign)
Dancer
akane☆プラチナ
Official Site
Psychetronica 5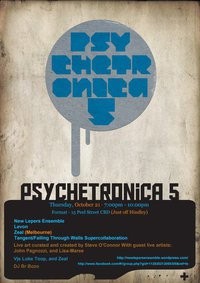 Psychetronica 5@Format Collective Building
2010-10-21 (thu) 19:00~22:00
Presented by New Lepers Ensemble
Format Collective building
http://maps.google.com/maps?f=q&hl=en&q=Peel+Street%2C+Adelaide%2C+Australia
15 Peel Street, Adelaide, Australia
The fifth edition of Psychetronica is yet again an enjoyable broth of live art, live electronic music and projected bliss!
After some pre-spring hibernation we are ready to transform the space into something multisensory and pretty again!
Halloween theme so get your costume on in prep for the actual night!
...
Sound by:
New Lepers Ensemble - 7 30
Levon - 8
Zeal (Melbourne) - 8 30
Tangent/Falling Through Walls Supercollaboration - 9
The night will also be warmed up by tunes via Dr Bozo
Live art curated and created by Steve O'Connor
With guest live artists:
John Pagnozzi
Lisa-Maree
Plus more to be confirmed (watch this space!)
Communal art projects created by all attending
Drawing competition to win a Psychetronica... showbag?!?
Vj by:
Luke Toop
Zeal
Also architectural art is in the cards, courtesy of Andrew Butler
After our hiatus this should be nice!
Oh, and to keep updated join the group "psychetronica adelaide"
http://www.facebook.com/#!/group.php?gid=112820212069309&ref=ts
More info will come up on my artist blog http://newlepersensemble.wordpress.com/
Oh, and I am celebrating my album release! Come and get a copy for either ridiculously cheap or free!
おとぎ
いつもと違う空間でまだひらかれていない扉がひらかれていく… 遊ぼう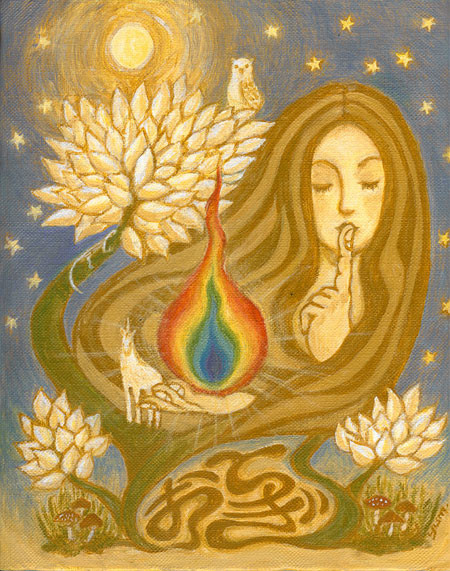 おとぎ@中滝アートヴィレッジ
2010-10-16 (sat) 16:00~10-17 (sun) 17:00
Presented by dijubian, PureHEMPCHILD, YUM
中滝アートヴィレッジ
http://www.nakadaki-art-village.com/
千葉県いすみ市岬町中滝2072 NAKADAKI ART VILLAGE
Tel. 0470-87-6964
Fee
Before / 3,000
Door / 3,500
Timetable
虹の谷ステージ (16:00~22:30)
16:00 taisouegao + 及川 禅
17:30 ガスヌマケンタ
19:00 朋 tomo (Bellydance) + PureHEMPCHILD
19:30 とこぺん
20:30 Linco
森のDISCO (23:30~04:00)
23:30 FREEBASS
01:00 DJ URI
02:30 PureHEMPCHILD
虹の谷ステージ (11:00~17:00)
11:00 Free session + B to B
12:00 山川海
13:30 Dai
15:00 MAKOSSA
Belly Dance
朋 tomo
Flyer artwork
YUM
Food
こいのぼり (ブラウニー専門店)
イクチャム (ベトナム料理)
Shop
Ena Beauty
SHINZOU
sudha sun unimondy
Yua candle
Official Site
The Mystic Day Off~吉田家の休日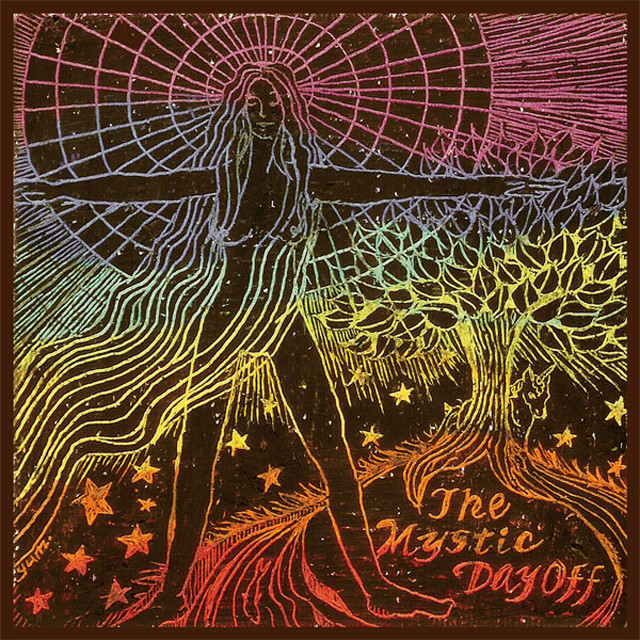 The Mystic Day Off~吉田家の休日@国指定重要文化財 吉田家住宅
2010-10-10 (sun) 12:00~19:00
Presented by カウヒ (kauhi)
Supported by RARE
国指定重要文化財 吉田家住宅
http://yoshidake.okoshi-yasu.net/
埼玉県比企郡小川町勝呂423-1
Tel. 0493-73-0040
Fee
500
Timetable
12:00 RARE (Junpey Yokoyama, Ryo Hanzawa, Syn Nakamura, tomot)
13:30 Kumikinha e Miurão e Ai-Carolina
14:00 taisouegao
14:30 The Kari Group (SomeonesGardenRECORDS)
15:00 カウヒ + mikie + 絹 (Aerial Performance)
16:00 Linco
16:30 gosei-f (Keep Ears Open)
17:00 沼田 志歩 x 梶谷 拓郎 x 中村 心
18:00 & color-music AllStars (DJ URI, solaris hour etc. Produced by Linco)
19:00 Close
Bodywork
IO Healing : カウヒ
Crystal Healing : michi
Aura Soma : akico
Massage : 花 (はなゆる)
Dance
Ring : mikie
Pantomime : 絹
Contemporary : 沼田 志歩
Contemporary : 梶谷 拓郎
Flyer artwork
YUM
Live Painting
YUM
太陽カゲロウ (Taiyo Kagero)
Shop
小川町のみなさん
WEB Casting
Kohei Hamochi
Official Site
http://www.color-music.com/event/the-mystic-day-off.html
≪Broadcasting on ustream≫
USTREAM
http://www.ustream.tv/channel/color-music-live-channel
全面協力 : Cafe Pacifica
埼玉県比企郡小川町大塚33-2 (役場通り)
Tel. 0493-72-6900
CHAZAWA SCENE vol.11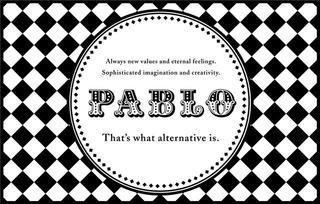 CHAZAWA SCENE vol.11@THREE
2010-10-05 (tue) 23:00~
Presented by 上野 剛史
shimokitazawa THREE
東京都世田谷区代沢5−18−1 カラバッシュビルB1F
Tel. 03-5204-9120
Artist
太陽カゲロウ (Taiyo Kagero)
Timetable
23:00 yosuke takano
23:50 micho
00:40 TAKACHA
01:30 ryotarow
02:20 ABCDEFG
03:10 GAME+tavo
04:20 karingo
04:50 B to B
Rosso Flamenco Live

Rosso Flamenco Live@Rosso, Oct. 2nd & 10th
2010-10-02 (sat) 18:00~
2010-10-10 (sun) 18:00~
1'st Set 19:00~
2'nd Set
入れ替え無し
Presented by ORQUESTA del VERANO
銀座ロッソ
東京都中央区銀座6−13−10
Tel. 03-3545-0995
Fee
4,700 (1ドリンク、1プレート付…軽い夕ご飯になります)
ORQUESTA del VERANO
上遠 野忍 (ギター、パルマ)
細川 晶生 (ギター、ベース、パルマ、作曲)
深澤 良子 (カンテ)
平島 聡 (カホン、パルマ、ジャンベ)
芳晴 (二胡)
山口 夏緒 (カスタネット、バストン、足音、作曲)
南川 護夫 (テナーサックス)
CD発売を記念して、ライブを行ないます。10月2日(土曜日)と10日(日曜日)の2回です。2回とも、若干内容が変わります。2日のゲストは、コンテンポラリーダンスのKAN-ICHIさん、10日のゲストは、北海道のバイラオーラ、板本麻見さんです。
Official Site
New Event
STAR 2010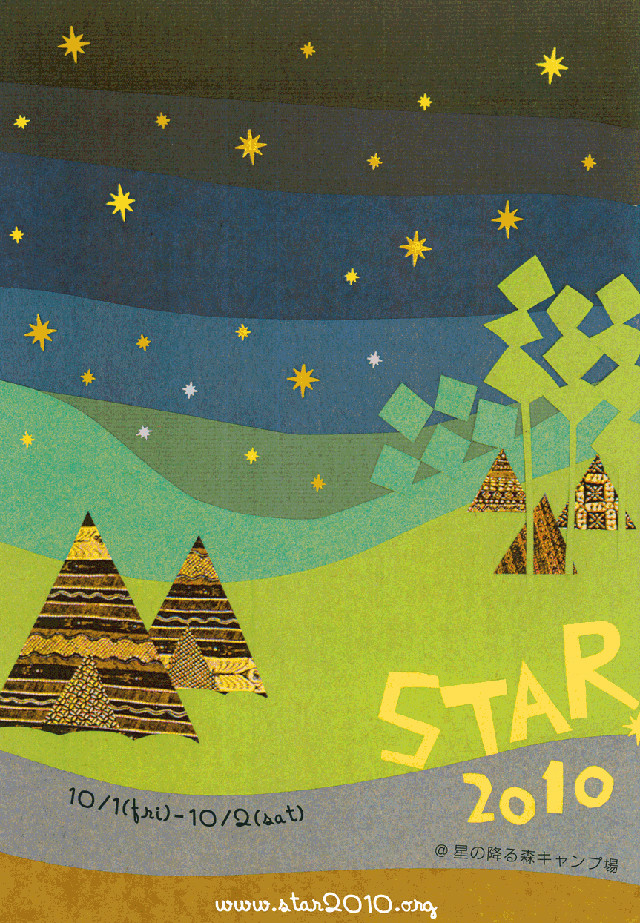 STAR 2010@星の降る森
2010-10-01 (fri)~02 (sat)
Presented by STAR
星の降る森
群馬県沼田市上発知町2543
Tel. 0278-23-7213
Fee
Door / 4,800 (1d)
Dj
AGEISHI (AHB pro.)
二見 裕志
MOODMAN
MAKO (CURANDERO)
ackky (journal)
COMPUMA
Dr. NISHIMURA (DISCOSSESSION)
jupiter drum
田中 the record
UECHI
WAC (CURANDERO)
rOyAl
charlie
kaneshiro (sol.)
kinmedai
KOHEI (LDK)
fishu
masa (so.l)
kiyo (sol.)
sandnorm
GEKKO
SEKI HIDEKIYO (FTP)
ひよこ (ひよこrecord)
BING aka カジワラ トシオ
Live
TEXACO LEATHERMAN
中原 昌也 (Hair Stylistics)
GROUP
CELEBS
suger plant
Love me tender
グッドモーニング Japan
oshare boys
マヒトバンド
Run D Barth
PCF
寿肉
灰野 敬二
Shop
BAR : Mescalito
Food : cocodoco
Sweets Cafe : Super Munchys
Record Shop : ひよこレコード
協力
天狗食堂
relov
sound produce
sounds like fish
lighting produce
ideal solutio
Official Site