2010 - 07
FM10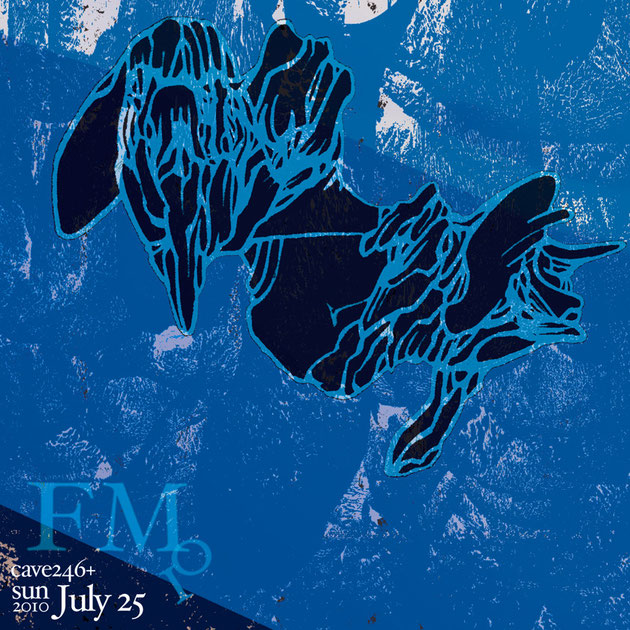 FM10@CAVE246+
2010-07-25 (sun) 16:00~23:00
Presented by Basic
CAVE246+
http://www.myspace.com/cave246plus
東京都世田谷区池尻2-33-15 大塚ビルB1F
Tel. 03-5431-1779
Fee
Before / 1,500 (1drink)
Door / 2,000 (1drink)
Timetable
16:30 カウヒ
17:15 Fujimoto Tetsro (cosmopolyphonic)
18:00 Dusky-titi aka Kyo-Hey
19:00 Syn Nakamura
20:00 cyberman plays chihiro butterfly
20:30 taisouegao + ヒラシマサトル + Kari
21:00 A look of color-music BtoB Hosted by Junpey Yokoyama
Flyer artwork
太陽カゲロウ (Taiyo Kagero)
IO Healing
カウヒ
Live Painting
marco pardo
WEB Casting
Kohei Hamochi
Official Site
≪Broadcasting on ustream≫
USTREAM
デルタ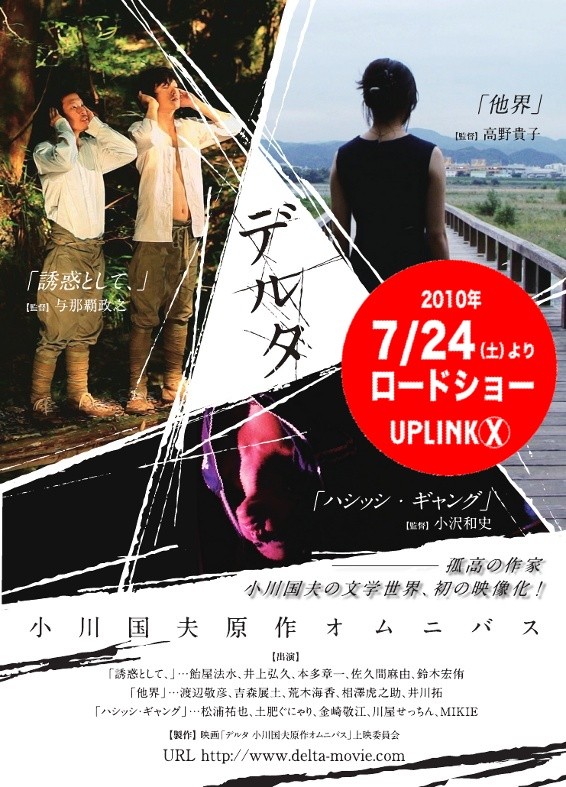 Psychetronica Adelaide 3 at the Jade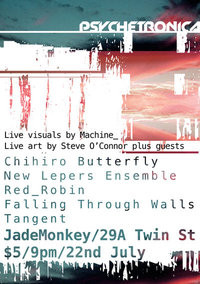 Psychetronica Adelaide Three!@The Jade Monkey
2010-07-22 (thu) 21:00~24:30
Presented by New Lepers Ensemble
The Jade Monkey
http://maps.google.co.jp/maps?num=50&lr=lang_ja&oe=sjis&q=29%20Twin%20St%20The%20Jade%20Monkey&um=1&ie=UTF-8&sa=N&hl=ja&tab=wl
29 Twin St, Adelaide, Australia
Psychetronica Adelaide Three, and this time at the Jade Monkey!
Live electronic music, art and visual bliss projected into the atmosphere.
...It is on:
Thursday 22nd July
9pm start
5 entry
Live art, music and Vj
Music line up is:
Chihiro Butterfly (Japan)
New Lepers Ensemble
Red_Robin
Falling Through Walls
Tangent
Sound engineering by Lisa Lane-Collins
This installment we have the honour of being part of Chihiro Butterfly's Australian tour so come and support our bonds with the international music community for electronic music!
For now her myspace is http://www.myspace.com/chihirobutterfly
Live Art by Steve O'Connor plus Katie Johnson and guests (TBA)
There will be a taste of what Steve has to offer at his exhibition in August. Anyone who has been to a previous Psychetronica knows they are in for a treat!
Link to Steve's work leading up to his exhibition at the Urban Cow Gallery: http://www.quietpop.com/returntonest/
It is in some way a very pretty site!
Finally, Live VJ by Machine_
He has provided visuals for RvM among many other events and will light up the Jade in a projected tempest! Or so I forecast.
Feel free to invite others to come along! Anyone is welcome to come. Also, any artists interested in showcasing at the event, don't hesitate to contact!
Also people can join the facebook group to get updates and invites to future events:
http://www.facebook.com/#!/group.php?gid=112820212069309&ref=ts
Celebrate with you at the Jade!
Feu
popokabaka#11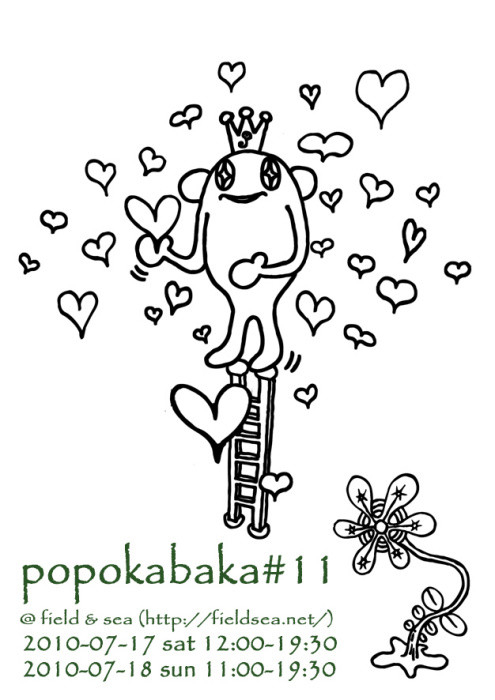 popokabaka#11@Field&Sea
2010-07-17 (sat) 12:00~19:30
2010-07-18 (sun) 10:30~19:30
Presented by moriken
Field&Sea
Fee
Free
Timetable
07-17
12:15 Nisi
13:00 Syn Nakamura
13:45 osa
14:30 moriken
15:15 たかこ(るーが)
16:00 siva-t
16:45 乙女組
18:15 カウヒ
19:00 BtoB
07-18
10:30 PureHEMPCHILD
11:00 DJ ist
11:30 Ryo Hanzawa
12:00 tomot
12:30 bird cloud
13:00 GA-SU
13:30 乙女組
14:30 Dusky-titi aka Kyo-Hey
15:00 You-me
15:30 solaris hour (Live)
16:00 DJ URI
16:30 Junpey Yokoyama
17:00 ubiksphere (Live)
17:45 cyberman
18:30 BtoB
Official Site
横浜ヴァージンフェスタ
横浜ヴァージンフェスタ@大さん橋ホール
2010-07-10 (sat) 12:00~19:00
2010-07-11 (sun) 10:00~18:30
Presented by 横浜ヴァージンフェスタ2010実行委員会事務局
大さん橋ホール
http://www.osanbashi.com/hall/index.html
神奈川県横浜市中区海岸通1-1
Tel. 045-211-2301
Artist
Syn Nakamura
Official Site
BACK2BACK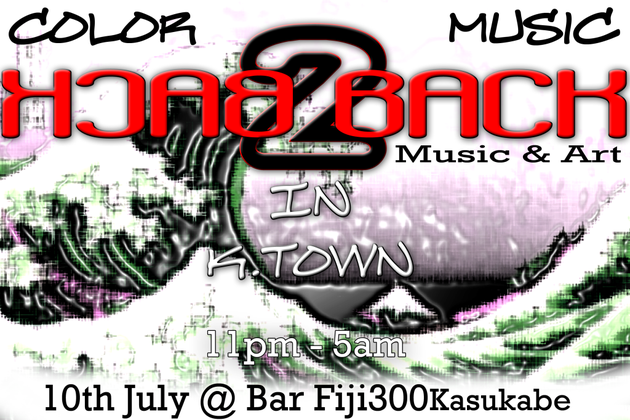 BACK2BACK@fiji300bar
2010-07-10 (sat) 23:00~29:00
Presented by aNiKi aGe
fiji300bar
埼玉県春日部市中央1−10−3 三樹ビル4F
Tel. 048-763-0300
Fee
Free
Artist
color-music AllStars
Live Painting
YUM
太陽カゲロウ (Taiyo Kagero)