2010 - 08
蛍~HOTARU~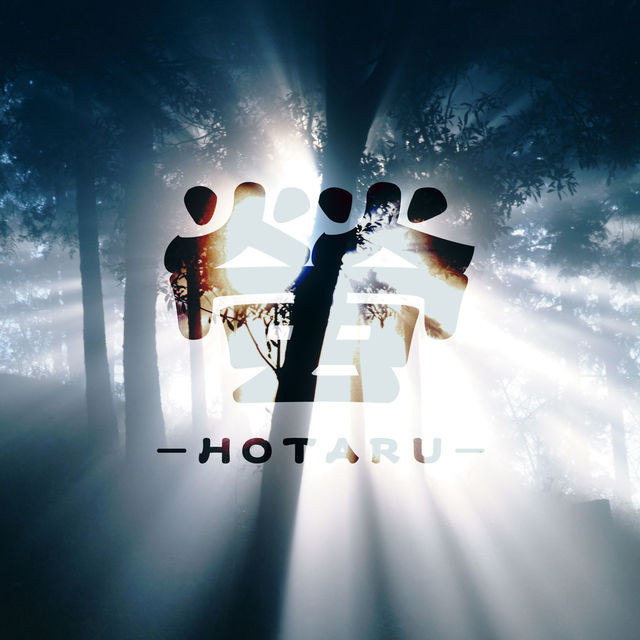 蛍~HOTARU~@はすとばら
2010-08-28 (sat) 23:30~29:30
Presented by color-music
はすとばら
東京都渋谷区道玄坂1-16-8 常磐ビル2F
Tel. 03-3463-5240
Fee
Free
Timetable
23:30 bird cloud (color-music / 螢~HOTARU~)
24:30 Dusky-titi aka Kyo-Hey (color-music / 螢~HOTARU~)
25:30 カズナリ (Liberate)
26:30 kira-kid (ashitanohikari)
27:30 DJ ist (color-music / FULLFAITH)
28:30 Coyubi (color-music / stardust from tomorrow)
29:30 Close
Sound Produced by taisouegao (color-music / stardust from tomorrow)
Dubbud Records presents live show by VOLTEX 3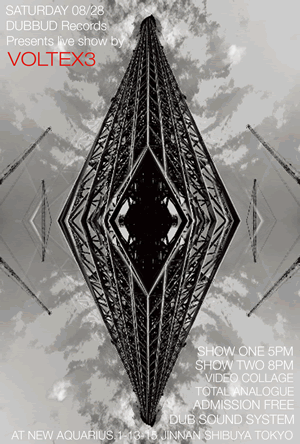 Dubbud Records presents live show by VOLTEX 3 @New Aquarius
2010-08-28 (sat)
Show1 : 5pm
Show2 : 8pm
Presented by Dubbud Records
New Aquarius
東京都東京都渋谷区神南1-13-15
Tel. 03-5728-6911
Fee
Free
VOLTEX3
2007年結成のマルチメディアアーティストのトリオは、ダビーなグルーヴとエレクトロ二カをブレンドしたオリジナルなサウンドを追求。VOLTEX3のオブスキュアでレアなMOOGシンセサイザーやアナログシークエンサー、テープエコーにより描写されるサウンドは、真空管アンプやヴィンテージなオーディオシステムによって演奏される。モジュール化された映像は、音とヴィジュアルの原始衝動的なトリップを投影する。
VOLTEX3
Established in 2007, this trio of multimedia artists delve into a unique of dub rhythms, inspire by Jamaican 7 inch vinyl, combined with purely progressive elements of electronica. The bands sound is characterized by stunning array of rare and obscure transistor synthesizers, beat controllers and tape FX, the musical vibration being further enhanced with valve amplification and audiophile quality public address system. Energised by the pulse of the insistent Chaka, Chaka, Chaka, VOLTEX3will also project recent manipulations of video and visual image collage during these two performances, clamping the sonic and visual journey into the fourth dimension, Except unexpected
primitive bliss, the mystical technology of change, sense of electric dread.
Arctic Blanket Club 32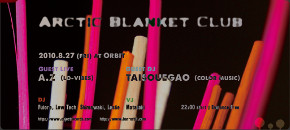 Arctic Blanket Club 32@Orbit
2010-08-27 (fri) 22:00~
Presented by OBJECT RECORDS
Orbit
東京都世田谷区太子堂5-28-9 B1F
Tel. 03-3411-3810
Fee
Free
Guest Live
a.z (lo-vibes)
Guest DJ
taisouegao (color-music)
Dj
Fulore
Leslie
LowTech
Shimawaki
Vj
Matataki
Official Site
Psychetronica 4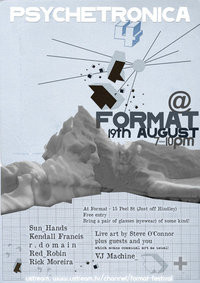 Psychetronica 4 - Record Store Launch@Format Collective Building
2010-08-19 (thu) 19:00~22:00
Presented by New Lepers Ensemble
Format Collective Building
http://maps.google.com/maps?f=q&hl=en&q=Peel+Street%2C+Adelaide%2C+Australia
15 Peel Street, Adelaide, Australia
Psychetronica is back at Format!
Hi all, I have been reserved with my messaging this month to keep your inboxes happy. Here are the details for this Thursday's event! It is free entry and will have a lot of new art forms on display!
Thursday 19th August
7pm - 10pm (so you can all catch your busses)
Live Music by:
7:30 Sun_Hands
8:00 Kendall Francis
8:30 r . d o m a i n
9:00 Red_robin
9:30 Rick Moreira
Live Art by Steve O'Connor plus guests
Communal art by you and everyone around you
Communal animation: Stacie Reeves and Steve
Live VJ by Levon Hudson plus Luke Toop and guests
Generative Art Architecture courtesy of Andrew Butler
Ustream at http://www.ustream.tv/channel/format-festival
Television coverage by Rachel Murell and Channel 31
If you can, come wearing some sort of eyewear (glasses, sunglasses, monacles, anything do to with the occular!) as a mini-costume theme!
We are also changing the layout of the place to make it a new space for celebration, so come along and enjoy!
More details available (soon) at my blog (had to use the artist one for now..)
http://newlepersensemble.wordpress.com/2010/08/16/psychetronica-4/
See you and everyone else there?
-Feugs

P.S. My album will be released in Japan online on the same day as Psychetronica! Thanks to everyone that supported me in my year of exploration.