2010 - 05
FLASH DANCE 2010 Spring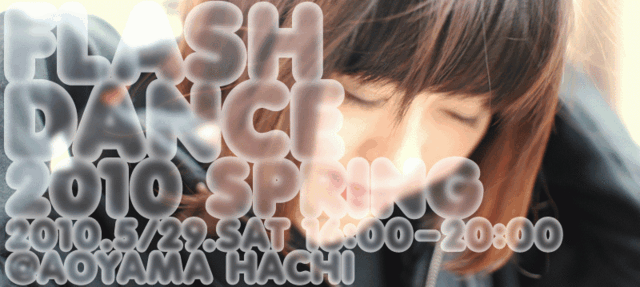 FLASH DANCE 2010 Spring@青山蜂
2010-05-29 (sat) 16:00~20:00
Presented by DJ PHUNKY☆PHRE$H
青山蜂
東京都渋谷区渋谷4-5-9 青山ビル
Tel. 03-5766-4887
Fee
1,500 (1drink)
Artist
kayoch
Ryon×2
sonoco (CAViTY)
DJ sayura
AREA8868
S (#skirtDISCO)
DJ Nylon
山田ワープ
PHUNKY☆PHRE$H (color-music / KlangKubikMucic)
トーニャハーディング
Official Site
FM9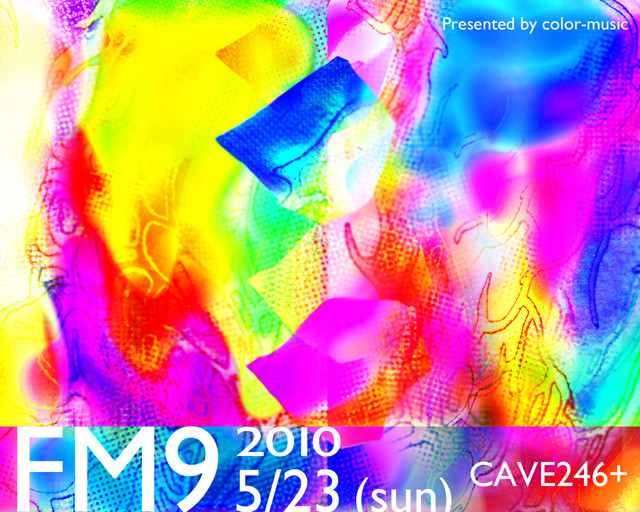 FM9@CAVE246+
2010-05-23 (sun) 16:00~23:00
Presented by color-music
CAVE246+
http://www.myspace.com/cave246plus
東京都世田谷区池尻2-33-15 大塚ビルB1F
Tel. 03-5431-1779
Fee
Before / 1,500 (1drink)
Door / 2,000 (1drink)
Timetable
16:30 Linco
17:15 enquete-art
18:00 ヒラシマサトル + taisouegao
18:30 小池 実
19:15 エレクト浪人 (electrounin)
19:45 Syn Nakamura
20:30 鈴木 みのり
21:00 PureHEMPCHILD
21:45 Dusky-titi aka Kyo-Hey
Flyer artwork
太陽カゲロウ (Taiyo Kagero)
IO Healing
カウヒ
Live Painting
marco pardo
Vj
太陽カゲロウ (Taiyo Kagero)
WEB Casting
Kohei Hamochi
Official Site
≪Broadcasting on ustream≫
USTREAM
SHINKARON+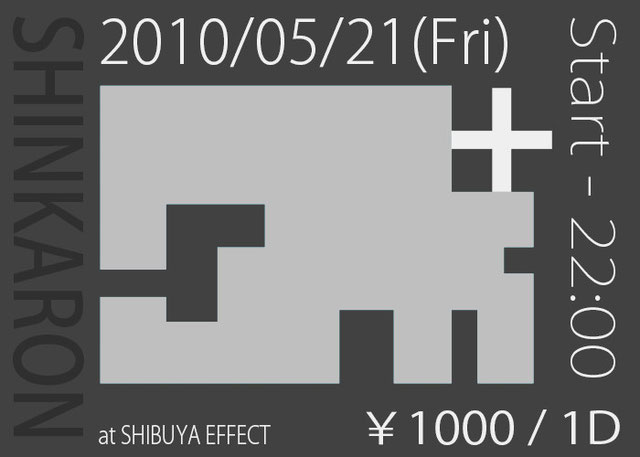 SHINKARON+@SHIBUYA EFFECT
2010-05-21 (fri) 22:00~29:30
Presented by SHINKARON
SHIBUYA EFFECT
東京都渋谷区道玄坂2ー13ー5 ハーベストビルB1F
Tel. 03-3770-7729
Fee
1,000 (1Drink Order)
Timetable
22:00 Dj : JUNON
22:45 LIVE : HugetheRiver
23:15 Dj : Coyubi (color-music)
24:15 LIVE : YOJI KIDO
24:45 Dj : ITTETSU (Therme)
25:45 LIVE : Klaus (BITB)
26:15 DJ : Hiroaki OBA (BITB)
27:15 LIVE : INHA
27:30 DJ : JAH-TAKE
28:30 DJ : 芝田 創
Official Site
Psychetronica Adelaide Launch!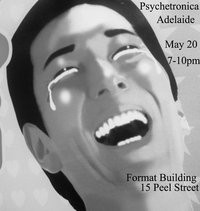 Psychetronica Adelaide@Format Collective Building
2010-05-20 (thu) 19:00~22:00
Presented by New Lepers Ensemble
Format Collective Building
http://maps.google.com/maps?f=q&hl=en&q=Peel+Street%2C+Adelaide%2C+Australia
15 Peel Street, Adelaide, Australia
The first Psychetronica Adelaide is here!
This night is aimed at creating a free atmosphere for some amazing electronic music to take place. It will accommodate a wide variety of sounds and artists over the night along with a massive live art mural and a VJ supplying live visuals via projector. The Format basement will also be decked out to provide maximum enjoyment.
It will be held at the Format building on Peel Street (Just off of Hindley) from 7-10pm, Thursday 20th May. BYO beverages. Entry is free, so feel just as free to bring along some friends! And even if your friends are being difficult, come along anyway! It will be a good opportunity to meet new people and share the experience of experimental sound.
The sound artists performing on the night are as follows:
The Yak Himself
MilTRON
Salamano
The New Lepers Ensemble
Falling Through Walls
Rick Moreira
With these guys playing it is definitely worth arriving at 7 and staying right through to hear everything. More details of these artists will be given out in posts to the Psychetronica Adelaide group, so check your inboxes.
Visually we also have quite a treat! Artist Steve O'connor will be doing a wall-enveloping mural throughout the three hours, which you may be called up to contribute to. Also, VJ Luke Toop will be adding an impressive extra dimension to the music through his setup. For those who have not seen VJing or live art before, it is really an experience! Even more will be happening visually but I won't ruin any little surprises.
Finally, borrowing from our sister event Psychetronica Tokyo we have Back 2 Back - people burn an audio cd (A work in progress song perhaps? Or just music that you like?) and take it in turns to dj through a track each until Psychetronica ends. We will only have about half an hour for back 2 back this time, but expect a pretty diverse range of songs.
Also procured from our Japan comrades is a dj set by Jimdos played at the last Psychetronica Tokyo, which will start off the sounds of the night.
Oh, and the event will be Ustreamed live to electronic artists and music appreciators around the world. For you guys the link is:
NOT the link I previously posted up, seems the copy function didn't quite go through.
HERE is the proper link:
http://www.ustream.tv/channel/format-festival
この上のリンクは、サイケトロニカアデレードが使うUstreamサイトのリンクです。Formatと言うグループのビルで行うからそのアカウントを利用します。このグループの行動はアデレードの色んな芸術をにぎわす事です。アデレードのアートシーンの中心の一つになったようです。では、このイベントを見てお願いします!
Keep an eye on this event in case more is happening yet. In either case, come along, bring a camera (or don't), and be ready to meet some very interesting people!
Also if you are interested in this, please join the facebook group:
http://www.facebook.com/?ref=logo#!/group.php?gid=112820212069309&ref=ts
WE ARE TRAK MAKERZ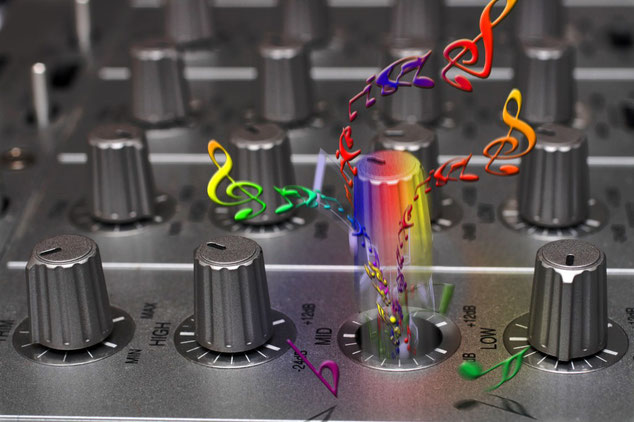 WE ARE TRAK MAKERZ@SHIBUYA EFFECT
2010-05-20 (thu) 18:00~23:00
Presented by WE ARE TRAK MAKERZ
SHIBUYA EFFECT
東京都渋谷区道玄坂2ー13ー5 ハーベストビルB1F
Tel. 03-3770-7729
Fee
Free (1Drink Order)
Timetable
18:00 KOOL DA BATT
18:30 Tomohiko Togashi (3xpansion)
19:00 シンイチロウ (Shooting House)
19:30 Hyuji (RTTF Records / HAPPINESS)
20:00 Ryo Hanzawa (color-music)
20:30 takao
21:00 Hardroid aka まゆりんち
21:30 パリッコ (LBT / クラブDJストーム)
22:00 FQTQ (CRAZYPOPS / レコライド)
22:30 Yoko (GALAXY RECZ)