Ton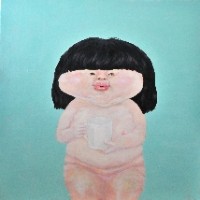 Profile No. 61
Illustrator, Photographer
color-music - Photographer
Biography
The starting point is "Chinchinman". though I am acting as photographer/illustrator. I did the first love to the boy in the next seat at the age of ten. I managed to want to laugh by the child and drew the hero gag cartoon '[Chinchin] man'. And, this '[Chinchin] man' became a work that was able to be called a starting point when own acting the creation. I want you to become the world where the highest peculiar characteristic and the wish that exists only in that the tidy possession of one person a person are held, and the smile and love overflow. The creation is continued based on a painful ....hot.. [].. wish for a moment so.
Biography (日本語)
私は写真家/イラストレーターとして活動していますが、原点は「ちんちんマン」です。 私は10歳の時に、隣の席の男の子に初恋をしました。私は何とかその子を笑わせたくてヒーローギャグ漫画『ちんちんマン』を描きました。そしてこの『ちんちんマン』は、自分自身の創作活動において原点ともいえる作品となりました。1人1人がちゃんと持っている、その方にしかない最高の持ち味や願いを抱き、笑顔と愛が溢れる世界になって欲しい。そんな、ちょっと暑っ苦しい願いに基づき創作を続けています。
Collaboration

Project 365
Syn Nakamura started "Project 365" since January 1st 2010. And this project will finish at the end of year 2010.
Artwork : color-music
Artwork : wasabeat
・ click to jump : wasabeat.com
Artwork