kai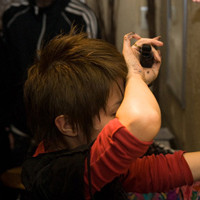 Profile No. 03
Painter
Organize - SakuLivePainttt!!!
Biography
Goto Kai was born in Yokohama, Japan, in 1987 where she currently resides. She developed an interest in painting from an early age. Not being able to continue her education at an art college, she continues to refine her unique art style through freelance work. She focuses primarily on minimalistic abstract paintings as well as illustrations often featuring frogs as the subject. In recent years she also became active in live painting.
Collaboration

Project 365
Syn Nakamura started "Project 365" since January 1st 2010. And this project will finish at the end of year 2010.
Artwork : color-music
Artwork : wasabeat
・ click to jump : wasabeat.com
Official Site